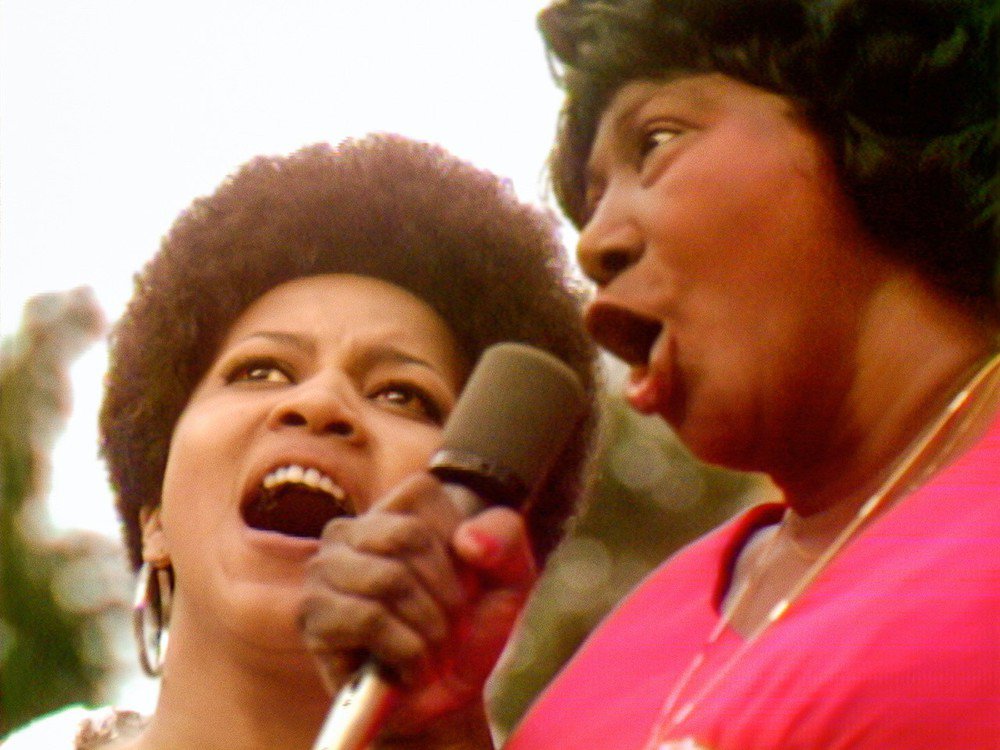 Summer of Soul is een muzikale documentaire over het legendarische Harlem Cultural Festival van 1969. Met onder andere optredens van Stevie Wonder, Nina Simone, Sly and the Family Stone.
details Summer of Soul
4GA
117 minuten
Summer of Soul is te zien in Amsterdam, Utrecht, Zutphen, Heerlen en Soest.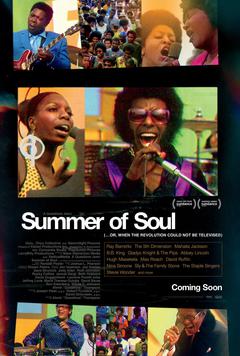 poster van Summer of Soul
kijkwijzer Summer of Soul
4GA
IMDb Summer of Soul
IMDb 8.2104214 ★
cast & crew Summer of Soul
regisseur
Ahmir "Questlove" Thompson
acteurs
Roy Ayers, Ethel Beatty, Barbara Bland-Acosta, Mike Boone, Dorinda Drake, Sheila E., Margot Edman, Greg Errico, Anthony Flood, Charlayne Hunter-Gault, Cyril 'Bullwhip' Innis Jr., Jesse Jackson, Musa Jackson, Gladys Knight, Adrienne Kryor, Alan Leeds, Darryl Lewis, Sal Masekela, Marilyn McCoo, Billy Davis Jr., Jim McFarland, Lin-Manuel Miranda, Luis Miranda, Denise Oliver-Velez, Roger Parris, Raoul Roach, Chris Rock, Al Sharpton, Mavis Staples, Sly Stone, Greg Tate, Stevie Wonder, Sue Yellin, Allen Zerkin, Tony Lawrence, The Edwin Hawkins Singers, Edwin Hawkins, Tramaine Hawkins, Walter Hawkins, Dorothy Morrison, Adam Clayton Powell Jr., The Chambers Brothers, Babatunde Olatunji, Abbey Lincoln, Max Roach, George Kirby, The 5th Dimension, Professor Caldwell and the Choralites, Operation Breadbasket, Ben Branch, Harwell Chauncey, Clara Walker, The Gospel Redeemers, Roebuck 'Pops' Staples, The Staple Singers, Mahalia Jackson, Herman Stevens, The Voices of Faith, Chuck Jackson, Blinky, David Ruffin, Willie Tyler, Lester, Gladys Knight & The Pips, Maurice King, Gene Key, Sly and the Family Stone, Herbie Mann, Steve Marcus, Sonny Sharrock, Miroslav Vitous, Bruno Carr, Ray Barretto, Adalberto Santiago, Roberto Rodriguez, Luis Cruz, Andy Gonzalez, Orestes Vilato, Tony Fuentes, Mongo Santamaria, Luis Gasca, Ray Maldanado, Sonny Fortune, Hadley Caliman, Rodgers Grant, William Allen, Steve Berrios, Moms Mabley, Cal Tjader, The Harlem Calypso Band, Nina Simone, Don Alias, Weldon Irvine, Hugh Masekela, Larry Willis, Henry Franklin, Chuck Carter, Marcus Garvey Jr., The Dinizulu Dancers & Drummers, Dewey 'Pigmeat' Markham, Yvonne Fair, B.B. King, The Harlem Festival Jazz Band, Carlos Alomar, Redd Foxx, John V. Lindsay, Hal Tulchin en Dinah Shore
details Summer of Soul
in première op
19-08-2021
genre
documentaire
jaar
2021
speelduur
117 minuten
Summer of Soul is te zien in Amsterdam, Utrecht, Zutphen, Heerlen en Soest.